Workshops @ Chinese Whispers
Studio 21 members will be running several two hour Chinese Whisper workshops in the Bracknell Gallery during the exhibition. The sessions will be collaborative and are based on the idea of 'make work and pass it on'. Responding to marks made by others in the group and using the materials provided the workshops provide a fantastic opportunity to explore your creativity.
You will need to pre-book your place on a session as places are limited.
Drawing / Mark-Making Workshop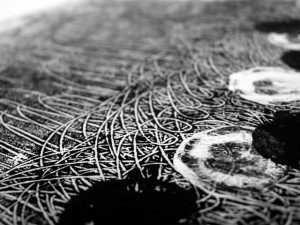 Using media such as wax pastel, graphite and ink you will produce several collaborative, experimental drawings. A simple book-binding technique will be shown to enable you to produce a small book of exciting papers that could inspire future work.
Days: Weds 16 and Weds 23 October 2013
Time: 11am-1pm
Cost: £10 per session, including all materials