Artist in the Spotlight: Helen Edwards
The day before yesterday's posting was about 45 Southside
Heres another extract from Gallery 45 Southside to tempt you. If you can't visit you can see more on their website, links below
You can still catch our contemporary textile exhibition until the 17th of November. The final spotlight in this series falls on mixed media textile artistHelen Edwards. She uses textile processes such as stitching, weaving and threading and applies these to a wide range of materials –  fabric, paper, metals, leather and porcelain. She constructs intricately detailed textile art characterised by texture, pattern and colour with both tactile and visual appeal.
 (left: Woven Pleats – detail)
Helen has loved making things all her life and was influenced by her Belgian mother and grandmother's creativity.
After acquiring a Degree at Queen Margaret College in Edinburgh she worked for 21 years in the NHS as a Speech and Language Therapist in Durham, Sunderland and Torbay. During this time she continued her interest in art, photography and textiles by attending short courses and evening classes. In 2005 her grandmother died leaving her with a wealth of textile bits and bobs and enough money to take a longed for opportunity to train in the field of Arts/Crafts.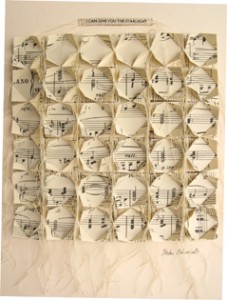 In 2007 Helen completed a Level 3 BTEC Art and Design course (Distinction) at South Devon College and then went on to gain a Distinction in her Foundation Degree in Integrated Crafts.
In 2009 Helen was awarded Membership of the Association of British Pewter Craftsmen after winning the "Neish Award" and a third prize in "Decorative Arts" for her pewter work in the "Pewter Live 2009″ Student Competition. Helen is a Merit Licentiate of the Society of Designer Craftsmen in London and gained Full Membership of the Devon Guild of Craftsmen in 2010.